Fleet Planning in the 'New Normal' during a Shortage Economy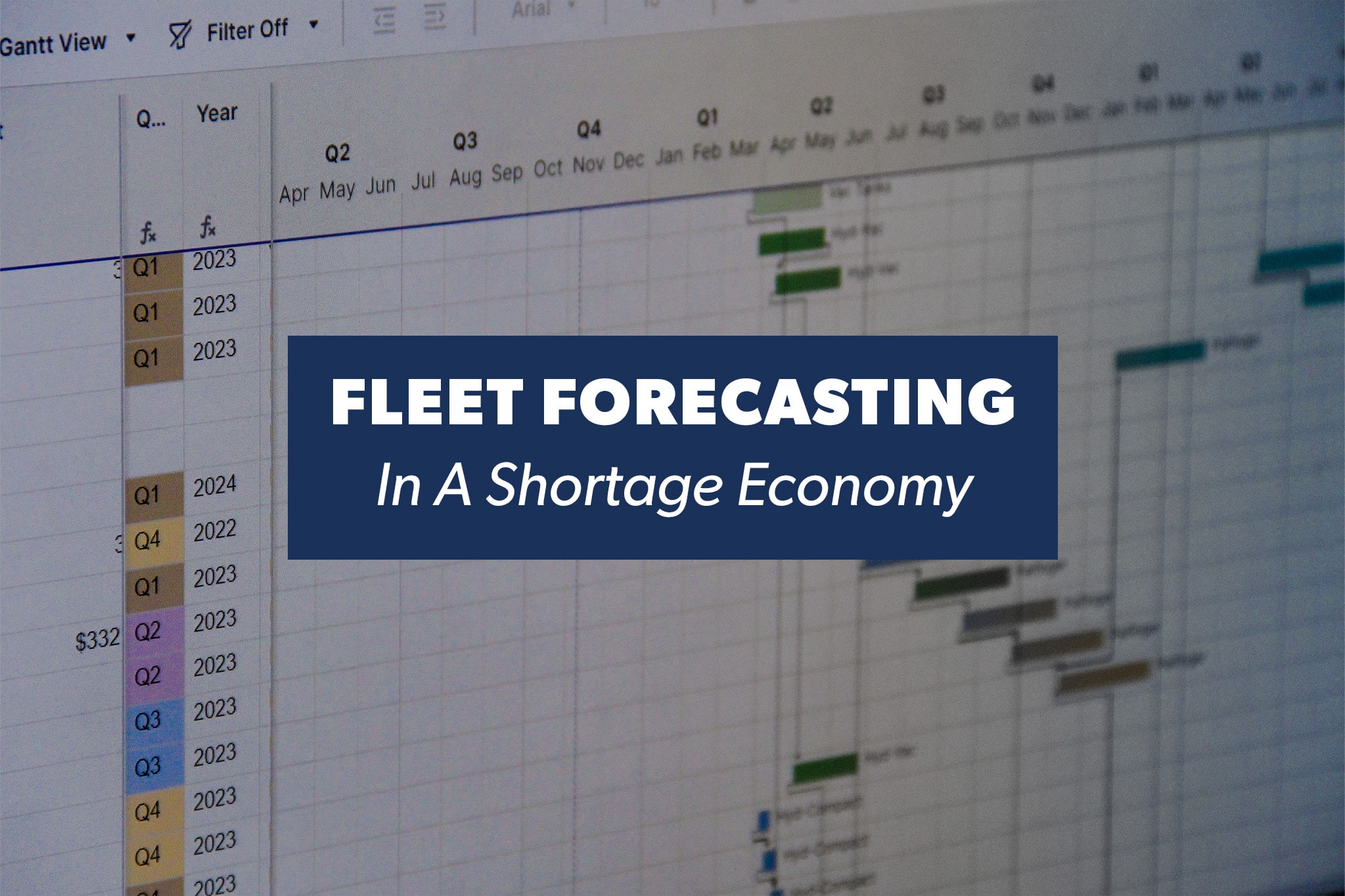 Why are we in this situation? A global snapshot…
For a decade after the 2008 financial crisis the world economies problem was a lack of spending. With governments imposing austerity policies, wariness on investment and households paying down debt, price became our decision maker and we hired from a seemingly infinite pool of workers.
Roll forward to 2021 and the impacts of Covid-19 are well and truly with us.
"Governments have massively stimulated economies since 2020 in an attempt to mitigate a financial crash, and consumer spend increased exponentially, leading to an unforeseen demand surge so powerful that supply chains have not kept up. Add in the disruption to freight caused by world manufacturing starting again and the lack of container circulation – a complex system that requires predictability and precision, both of which have been lost, and we are now living in a new era of scarcity." – Peter Bishop, Board Member (Euroclass Design & Build CEO)
Never since the world wars have we seen nation's borders become so protected, regional isolation and global fragmentation like it and the effects of lockdowns around the world are now showing themselves in what is essentially a completely 'broken chain'. The gluts of the 2000s have given way to a 'shortage economy'.
Global disruption visits New Zealand.
"A shortage economy changes the dynamics of running our businesses here in New Zealand. Maintaining key infrastructure and keeping pace with demands on infrastructure growth without getting caught by rising costs and significant delays means we must change a more traditional approach to fleet management. With the expectation that we have 18-24months of disruption as we wait on a 'global re-set' to bring back flow and continuity, it has never been more important to lift our view, start forecasting our fleet and move into a proactive mindset." – Truan Bailey – Managing Director, Waimea Group
Here at Waimea Group we feel our responsibility as a provider of specialist equipment relied on by those maintaining essential infrastructure and utility services to our fellow New Zealanders. In looking ahead at the requirements of the markets we operate in and the timeframes in which equipment is required, we are concerned about mitigating the impacts of supply chain disruptions and consequential rising inflation on our customers and their business operations.
So what are we doing about it?
We have challenged ourselves to create a new way of working and developed a methodology to break the trend and bring continuity and predictability. Specialist equipment involves a complex process of importing parts, manufacturing and assembly and it is a slow wheel to speed up in order to respond to changing demands.
Our 'front foot' methodology is designed to curb the challenges explained above and to shield our customers from rising costs centers in three key areas:
Truck build commitments: Waimea Group has made significant financial investment in committing to over 100 standardized builds in advance for 2022. These speculative commitments are to build specialist trucks that we know meet the specific functions of the industries we serve meaning a flow of equipment coming through that we can allocate to the demands of the market.
Fleet Forecasting: Integral to the success of this methodology is understanding our customers fleet needs 24months in advance. This allows us to continue the 'wheel of anticipation' whereby we are continually making speculative commitments to our supply chain on our customers behalf well in advance. This pre-emptive view brings the continuity our market needs but all hinges on close collaboration and alignment with the specifics of your fleet.
Cost Management: With costs having risen 10-15% in six months across raw materials, freight and specialist componentry, this can equate to additional costs in the region of $30,000 – $75,000 +GST per truck build and shows no signs of slowing. Combining our flow of incoming builds with customers forward fleet demands, we have created a system of 'build slots' whereby specific builds can be allocated to customers. This provides a guarantee of availability without a level of financial commitment when capex hasn't yet been obtained. Once capex is secured, a deposit against this build then locks down and fixes the build price well out in advance of actual delivery bringing certainty to capex application and budgeting.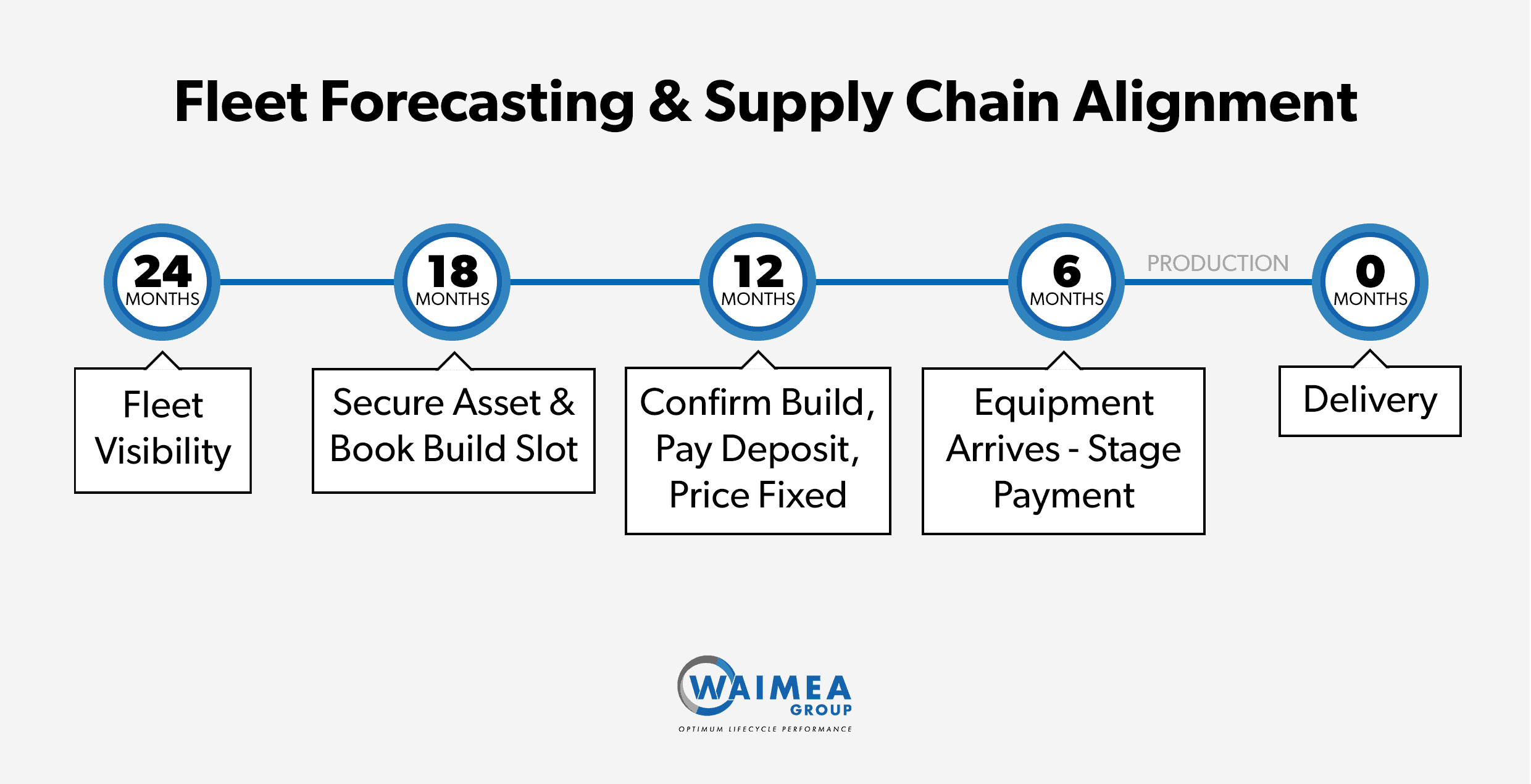 In the unique times we are in where availability and risk of inflationary increases are impacting our customer operations, we would like to assure you that there is a means to mitigate these factors. We invite you to join us on a fleet forecasting and supply chain alignment journey by entering a proven and proactive process where we provide our solutions and timings for your particular fleet.
Take steps to more effective fleet planning by getting in touch with Gareth Deck on 021 812 581 for Power Utilities & Arborist fleet or Maska Lewis on 021 228 3465 for Vacuum Tanker & Liquid Waste.