Looking for a Compact Trailer-Mounted Hydro Excavator for Locating Services?
Say goodbye to down-time, expensive sub-contractors or damaged services – you can now enjoy the convenience of your own towable hydro-excavator! The new Allvac® AV850 mobile hydro-excavator unit can be towed with a ute and is now available for hire or purchase.  
Waimea Group has developed the Allvac® AV850 fully self-contained towable unit specifically for use in New Zealand to address the increasing demand for a safe and effective way of locating services – hydro excavation is fast heading towards the only approved method for locating critical services with many councils and local authorities adopting this methodology for digging. 
Typically referred to as potholing of services prior to excavation works, the 'hydro-vac' process avoids the costly inconvenience of damaged fibre optic cables, fractured water mains, not to mention the dangers of hitting power cables! With so many services now underground and a lack of accurate records on their location, the Allvac® AV850 is a fit for purpose hydrovac solution that has great carrying capacity whilst remaining compact for tight urban environments.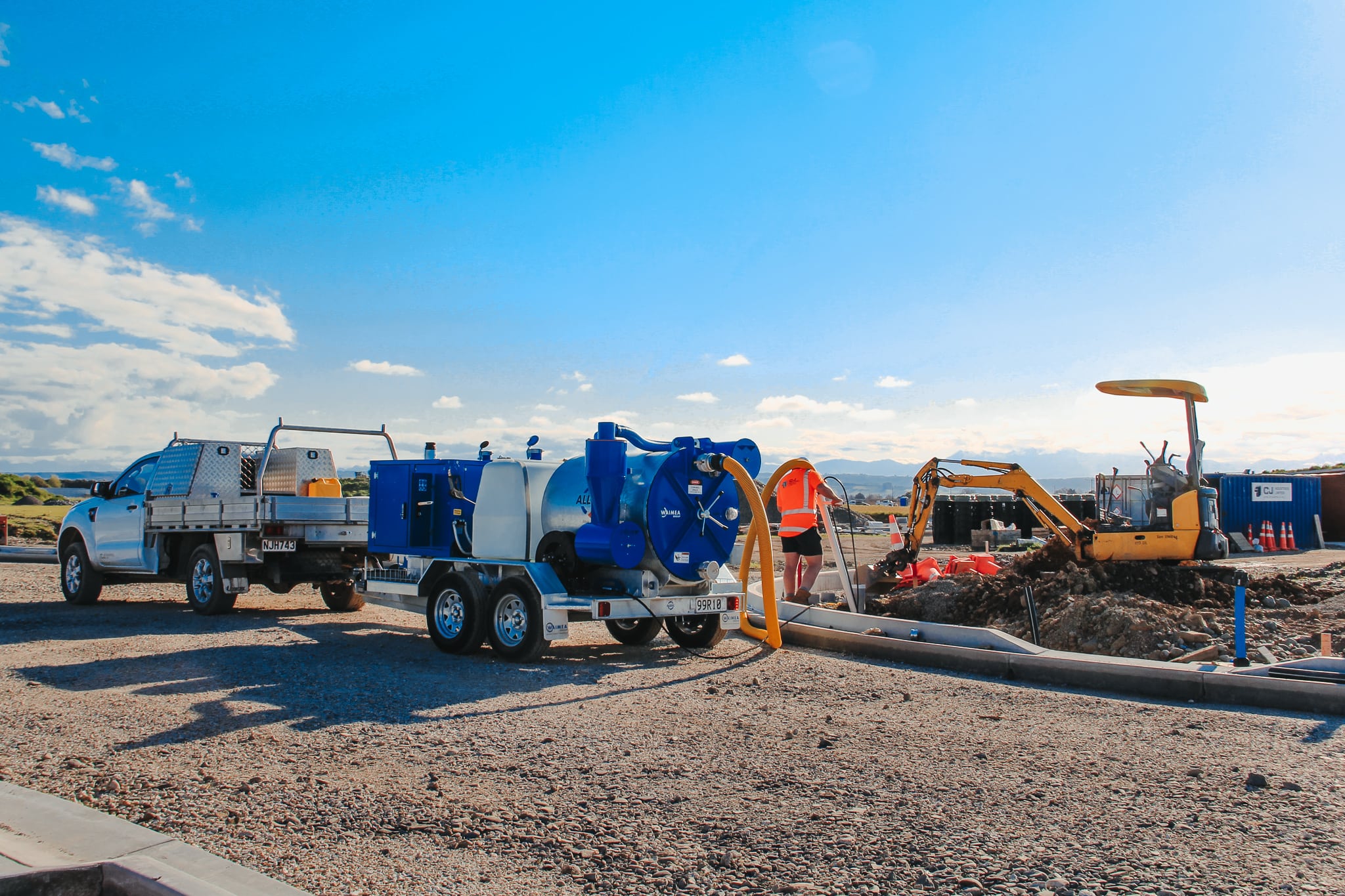 Many contractors are investing in equipment that enables them to complete this service at their own convenience rather than having to organise and pay a sub-contractor for significantly larger truck mount equipment, saving time and money in the process. Read on to find out how this investment stacks up. 
Ventia (formally Broad Spectrum) has contracts throughout New Zealand and Australia providing long-term operation, maintenance, and management of critical public and private assets and infrastructure across a diverse range of industries. They required a solution for potholing of services prior to excavation works, as well as being able to carefully work around fibre cables without damaging them and facing the high costs involved with repairs. Tim Ward of Ventia, approached Maska Lewis as they have a long-standing relationship with Waimea Group providing service and support to the hydro-excavation industry. 
Maska worked with Tim to gain an understanding of the challenges and constraints and was able to provide the perfect solution in the form of our AV850 trailer vacuum unit. 
The new AV850 is designed and built with a 500 litre freshwater tank and 850 litre tipping spoil tank with self-contained diesel motor to run the vacuum pump and the water blaster. This unit provides very clean excavation with the combination suction wand and cuts a 150mm hole. A key element of Ventia's decision to proceed with the Allvac trailer was the H&S aspect of its low centre of gravity and hydraulic tipping tank – this provides a safe method for removal of waste and ensures the overall units low centre of gravity gives stability and safety whilst in transit and in the soft verges or uneven roadside ground that the trailer is designed to operate in. View the Allvac® AV850 details here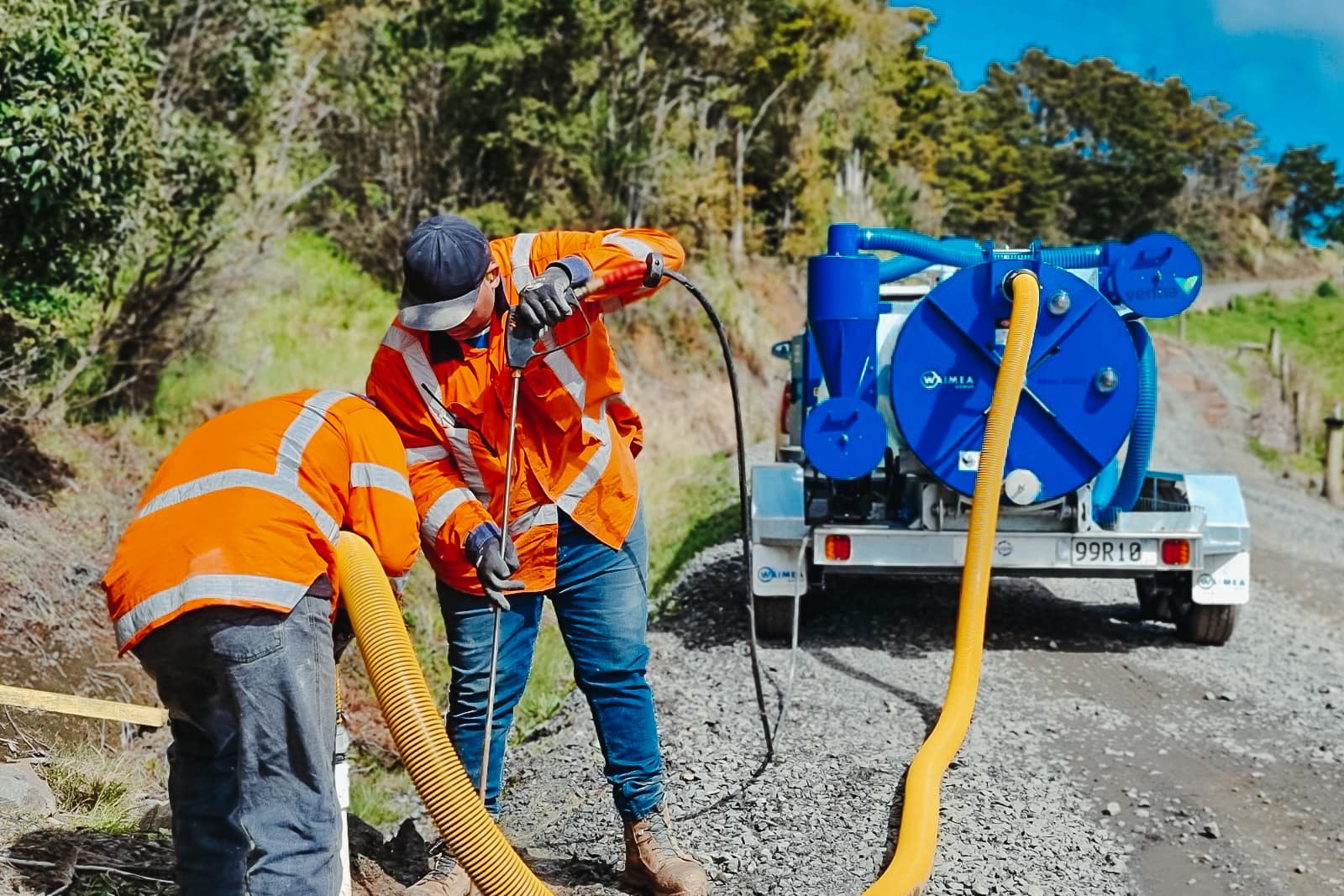 The team at Ventia using their new Allvac® AV850 Trailer
Maska negotiated the travel corridor through the Auckland region to deliver this unit to Dargaville and carried out our Practical Training Program which ensures the operators know the safest and most efficient way to operate this unit. 
So what's best – outright purchase, hire or sub-contract? Outright purchase gives you total control over the equipment and if the brand is reputable and the supplier provides excellent after sales back up, the investment pays off over time. Hire and lease involves no capital investment up front and fixed monthly costs providing flexibility to the contractor. In this instance, with capex a way off, Ventia have the option to purchase with a discount against any hire paid. This ensured they got the benefit of the equipment immediately whilst waiting for formal capex sign-off. Waimea Group can assist you in providing equipment under whatever operating model suits your business.