Asplundh Reach New Heights with Multiple Waimea Group Truck Builds
Following the successful award of a Taranaki region vegetation contract, Asplundh needed specialist equipment designed and built to hit the ground running in a high-profile contract.  
Rudolf Kilian, Fleet Manager for Asplundh NZ, came to Waimea Group seeking turn-key arborist units built to a specific Asplundh specification. The solution had to be stable, compliant with NZ regulation and met all health and safety requirements so they could send their teams home safe everyday. Alongside the build brief was the need to achieve a challenging budget and timeframe to support Asplundh as they got operational on the contract.   
Gareth and the team at Waimea Group have formed a strong working relationship with Asplundh in the detailed process of establishing a fit for purpose build brief and then delivering on it through production and finally onsite operator training. Two new 4×4 bucket trucks have been delivered recently with a further four in build. Asplundh's operators have received on-site training in the safe and efficient use of the booms and know they are covered by Waimea Group's ongoing maintenance and service support, through our 365 Performance Plan.  
As part of this contract some new innovative products were required to enable arborists to traverse across soft boggy ground in the Taranaki District. The two companies have worked together to develop a Morooka tracked base mounted with an insulated boom which, with a very low ground pressure and 'go anywhere' tracks, will enable them to safely access remote locations. Additionally, an Iveco Daily 4×4 truck with boom has been developed for combined on-road and serious off-road capability.   
In his own words, Rudolf Kilian says; 
"Waimea has been a strategic supplier and trusted partner of Asplundh for a number of years. The team at Waimea is extremely knowledgeable and easy to deal with and their unique ability to work closely with our teams to achieve outcomes that often exceeds our expectations is testament to their vast industry knowledge and experience. 
Waimea is always looking for ways to improve. Their designs and builds are innovative and up to date with current and future technologies and safety features. Waimea invests a lot of time ensuring that their builds are practical and safe, and I am always surprised by their level of attention to detail. Ergonomics is particularly important to our operators and field staff and it directly impacts their safety and productivity. Waimea understands the importance of getting it right, and nothing is left for chance!  
With their "can do" attitude Waimea puts a lot of emphasis on sustainability and longevity throughout their service delivery. For them it's a journey, not just a transaction, and I highly recommend them."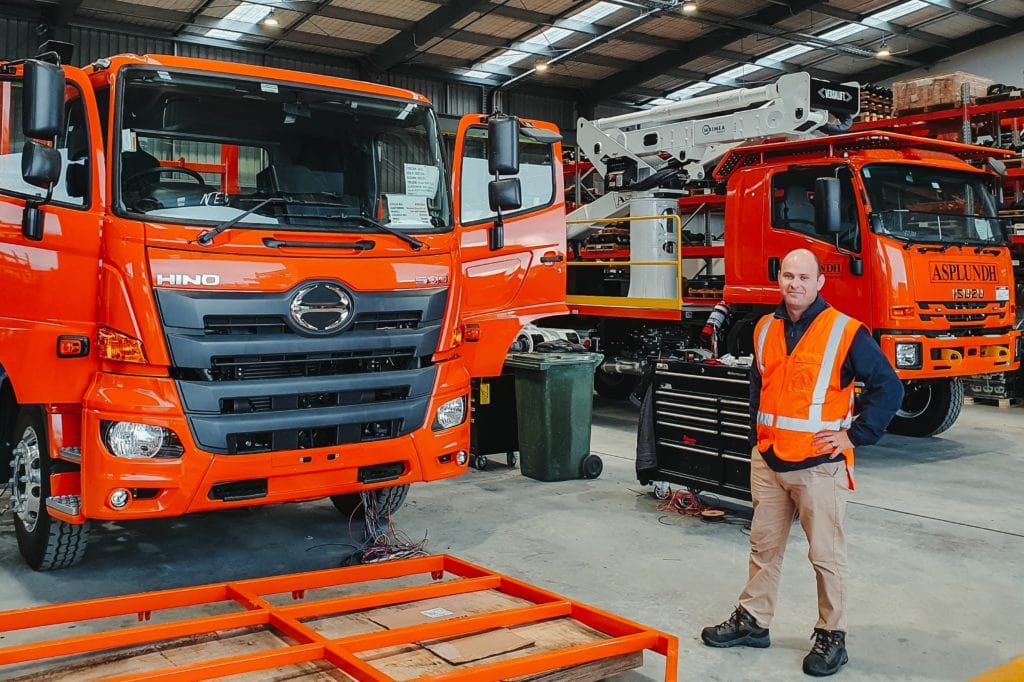 At Waimea Group, we help those working on and around the electricity network to 'keep the lights on' in New Zealand, by providing safe & compliant equipment. We understand the pressure there is to maintain the network in challenging environments and like our trucks, preventative maintenance is the key to reducing power outages, which is why we have a vision of 'Zero Vehicle Downtime'. 
Operators need to know they can trust their equipment to be reliable and safe so they can focus on their tasks and getting home safe every night.  
Reach out to our industry advisor Gareth Deck to discuss your specialist utility vehicle requirements and find out how easy it can be when you partner with the industry specialists.  
Here's one of the completed arborist units